See on Scoop.it – Semantic Gnosis Web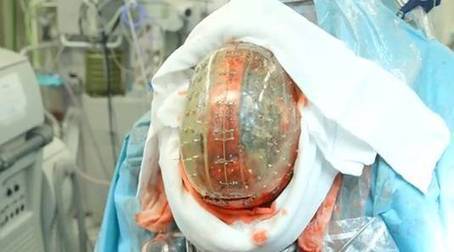 Modern tech solves brain ache
Jan Bergmans's insight:
t's usual for surgeons to remove parts of the skull, normally when illnesses such as severe cranial concussion cause the brain to swell. But having to replace so much of the skull, as in this young woman's case, is unusual and fraught with problems.
"We used to create an implant by hand in the operating theater using a kind of cement, but those implants did not have a very good fit," said pioneering surgeon Dr Bon Verweij.
"Now, these parts can be precisely created using 3D printing customized. This not only cosmetically very large benefits, but patients often have a better brain function seen compared to the old method."
The surgeons worked with Australian 3D printing firm Anatomics, which used CT scans to determine the precise shape of the patient's skull and then printed out a copy in acrylic, modified to remove the unwanted growth. They took off most of her cranium, and then fitted the artificial replacement in a 23-hour operation.
Warning: the video below is fairly gruesome, and you'll need to enable closed captions, unless you're fluent in Dutch.
See on www.theregister.co.uk