See on Scoop.it – The Dream Of A Shadow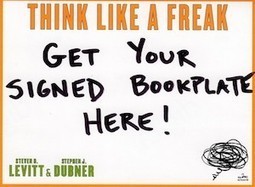 Jan Bergmans's insight:
Think Like a Freak
Out on May 12, 2014!
Levitt and Dubner take us inside their thought process and teach us all to think a bit more productively, more creatively, more rationally – to think, that is, like a Freak. They offer a blueprint for an entirely new way to solve problems, whether your interest lies in minor lifehacks or major global reforms. As always, no topic is off-limits. They range from business to philanthropy to sports to politics, all with the goal of retraining your brain. Along the way, you'll learn the secrets of a Japanese hot-dog-eating champion, the reason an Australian doctor swallowed a batch of dangerous bacteria, and why Nigerian e-mail scammers make a point of saying they're from Nigeria. Levitt and Dubner plainly see the world like no one else. Now you can too. Never before have such revolutionary thinkers been so revealing – and so much fun to read. Read More.
See on freakonomics.com