See on Scoop.it – The Dream Of A Shadow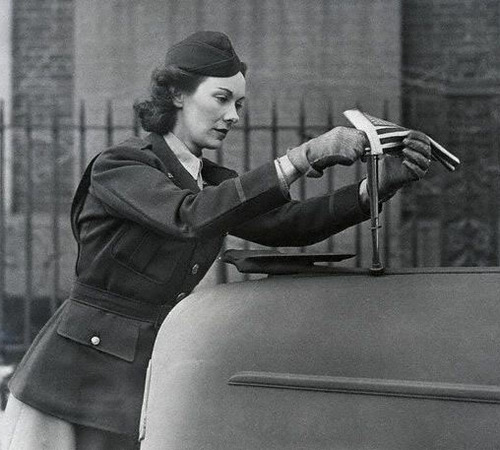 The end of World War II in Europe signaled the end of the road for chauffeur Kay Summersby's three-year relationship with her boss, Gen. Dwight D. Eisenhower.Her face was censored from the official…
Jan Bergmans's insight:
The end of World War II in Europe signaled the end of the road for chauffeur Kay Summersby's three-year relationship with her boss, Gen. Dwight D. Eisenhower.
Her face was censored from the official photo taken by Technical Sgt. Al Meserlin, Ike's personal photographer, on that May morning in 1945 when the Germans surrendered at the red-brick schoolhouse in Reims, France.
In a print of the original picture, which Meserlin has kept in his scrapbook for 50 years, Summersby is in the background as Eisenhower holds aloft, in a V-for-victory gesture, the two pens used by the high-ranking German officers to sign the surrender.
Meserlin, now living in Sea Girt, N.J., has no idea why the photo was altered after he shipped off his film to the Army Pictorial Service laboratory in Paris. "All our stuff went through the wartime censors," he said. "Usually they just cropped out identifying terrain details so as not to reveal Eisenhower's whereabouts, like when he went to Bastogne."
When Eisenhower left Europe for a Pentagon assignment some months later, Summersby's name was dropped from the travel orders of SHAEF (Supreme Headquarters Allied Expeditionary Force) staffers joining him. She was the only member of what he fondly called his "immediate wartime family" to be left behind.
She was devastated, as she recorded in a bittersweet autobiography, "Past Forgetting: My Love Affair With Dwight D. Eisenhower," written after Eisenhower's death and during her final illness. It depicted a passionate but unconsummated love affair that consisted mostly of "stolen kisses" along a woodland path or aboard "a darkened plane to Cairo."
She wrote of holding hands, sitting before the fire in his quarters listening to favorite records while sharing cocktails for two, "almost telepathic" bridge partners, golfing together, horseback riding in the countryside or the desert, romping with "Telek," the coal-black Scotch terrier he bought for her.
Eisenhower mentions her only once in his diary, "Crusade in Europe," just a name on a list of aides.
Kathleen McCarthy Summersby, a perky, coquettish Irish divorcee and former fashion model for the House of Worth in Paris, was 33 when as a civilian volunteer with the British Motor Transport Corps she was assigned to drive Eisenhower around London. He was 20 years older.
One of her earlier assignments was driving an ambulance in the heavily blitzed East End dock area, picking up bodies and delivering them to the morgue. Twice she had to drive around all night searching for a morgue that had room for more corpses.
See on articles.latimes.com