See on Scoop.it – Semantic Gnosis Web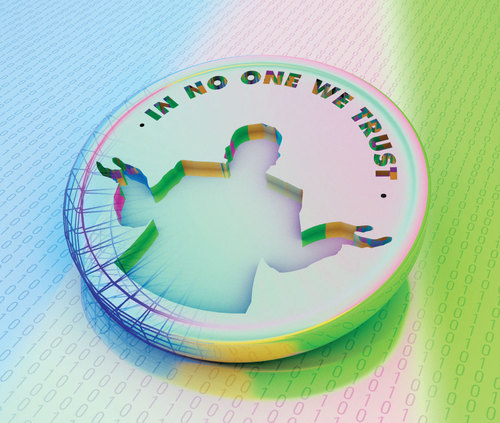 The anarchist virtual currency may be a hoax. It could also be the wave of the future
Jan Bergmans's insight:
One of the oddest bits of news to emerge from the economic collapse of Cyprus is a corresponding rise in the value of Bitcoin, the Internet's favorite, media-friendly, anarchist crypto-currency. In Spain, Google (GOOG) searches for "Bitcoin" and downloads of Bitcoin apps soared. The value of a Bitcoin went up to $78. Someone put out a press release promising a Bitcoin ATM in Cyprus. Far away, in Canada, a man said he'd sell his house for BTC5,362.
Bitcoin was created in 2009 by a pseudonymous hacker who calls him or herself Satoshi Nakamoto (and who might be several people). It's a form of virtual cash used to buy goods and services online. Even by Web standards, it's a strange and supergeeky phenomenon. This is what happens when software and networks meet the concept of currency, when you take peer-to-peer networks and advanced cryptography and ask, "How can I make a new economy?"
There are 10,952,975 Bitcoins in circulation. (With a digital currency you can be specific.) Bitcoin isn't about to replace hard currency—with a market cap of $864 million, all of it is worth less than what Facebook (FB) paid for Instagram—but it's bigger than anyone expected. And many people will tell you that the emergence of a virtual global money supply beyond the reach and control of any government is very real and that it's time we take it seriously. As long as the Internet remains turned on, Bitcoin will be there—to its adherents, it's the Platonic currency.
A dollar bill has a serial number and travels from buyer to seller. A Bitcoin's not so much a thing as an understanding, a balance in a decentralized general ledger, or "account log." Bitcoins are created as the side effect of a great deal of meaningless computational work. That is, the computer could be working on protein-folding, or processing images, or doing something else with its time, but instead it's being used to "mine" Bitcoins—searching for mathematical needles in a networked haystack. Once the needle is found, a "block" of Bitcoins is born. Bitcoins live in a bit of software known as your "wallet."
How did they get there? Perhaps you minted them by mining, or bought them on an exchange, or received them as part of a barter transaction. Now those Bitcoins are burning a bithole in your bitpocket, and you want to buy something. How do you spend them? Clicking around your wallet app, you set up a payment and put in the Bitcoin address of the recipient—something memorable and fun, like 1Ns17iag9jJgTHD1VXjvLCEnZuQ3rJDE9L. A few minutes later, after the peer-to-peer network has authorized the transaction as legitimate, the recipient's wallet, wherever it is, will show that you've paid up.
How is this different from PayPal (EBAY)? In theory anyone could run his own version of PayPal on a server and use that to transfer funds between parties. But he'd also need to handle world currencies, deal with security, and handle regulations. Similarly, physical banks promise protections above and beyond stuffing cash in a mattress or dropping it off in paper bags. Financial institutions commodify trust—it's not their money, after all. It's yours. Yet you trust them more than you trust yourself.
Bitcoin shrugs all this off. It's not pegged to anything, and there are no regulations. It's a supercomputer-size chore to counterfeit. The key thing to understand is that there's no bank, no Federal Reserve, in the middle. It's not unlike an exchange-traded fund (for example, FORX, from Pimco)—a mix of non-U.S. currencies—designed as a hedge against the dollar. Bitcoin is a hedge against the entire global currency system. And no exchange is needed, unless you want to convert your Bitcoin into an actual hard currency.
Bitcoin is no more arbitrary than derivatives or credit default swaps. Given that regular folks, if they're nerdy and interested in Bitcoins, can use the currency for all manner of things, including illegal things, it's arguably a far less arbitrary instrument.
Maybe Bitcoin's devotees are right, and it's the currency of the future. Or perhaps it's a ridiculous joke—a speculative, hilarious enterprise taken to its most insane conclusion. Given that the founder is nowhere to be found, it feels like a hoax, a parody of the global economy. That the technology used to implement it has, so far, shown itself to be impeccable and completely functional, and that it's actually being exchanged, just makes it a better joke. The truth is, it doesn't much matter if it's a joke or not. It works.
See on www.businessweek.com