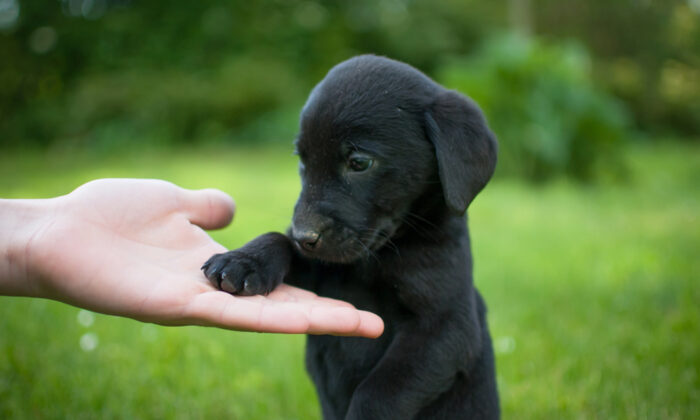 Deaf Man Adopts Adorable Deaf Rescue Pup and Teaches Him Sign Language
By Michael Wing February 3, 2020 Updated: February 4, 2020
Lab mix Emerson was just a 6-week-old pup when he was rescued from a shelter in Florida. Lindsay Powers, from foster-based rescue NFR Maine, later introduced Emerson to his new home in the northern state. She also found out something special about Emerson: he was deaf.
"Once we got him home from the vet's office from Florida, we realized he had hearing difficulties," Powers told Good Morning America. "He doesn't let it bother him at all, though he's a typical puppy." They were not sure if Emerson was born deaf or if he lost his hearing after birth.
When oh when Am I going to find my forever people foster mom?! I'm such a good, seeet boy! It's not my fault im deaf, it doesn't make me any less perfect I promise!!
Emerson suffered from seizures and an infection called canine parvovirus while he was with Powers. She would have to wait until he got better before putting him up for adoption. Thankfully, they found him a home soon thereafter.
"He had such a rough start to life and he ended up with an absolute fairy tale ending," Powers added.
She had posted about Emerson on Facebook, and after a few weeks, they found the perfect match for his new forever home. Powers learned that the soon-to-be owner of Emerson, 31-year-old Nick Abbot, was also deaf. Because of that, he had told her, he felt they would have a "good connection."
Within a day, Powers had processed their application. And before you know it, they had had their first meetup, and it went great. Nick was right.
NFR Maine took to Facebook on March 18, 2019, and wrote about Nick and Emerson's meetup: "When Nick and his Mom walked into the house to meet Emerson, Emerson made a direct line for Nick and sat at his feet. That's all it took. I was sold that this was fate, and these 2 belonged to each other."
Alluding to the adoption, a rep from NFR Maine further added: "This will go down in history as one of my all time favorite adoptions stories. This will be the story I tell people when they ask "Why/how can you foster like that."
Nick's mom, Richelle Abbot, told GMA that her son has since started teaching Emerson sign language. So far, he's taught Emerson to sit, lie down, and come by signing.