Opinie: als de lockdown moet worden doorgezet, dreigen we onze welvarende samenleving te verliezen
Nederland moet na de intelligente lockdown ook een intelligente exitstrategie ontwikkelen, vooral met hulp van testkits. Maakt niet uit wat het kost en desnoods door nationalisering van laboratoria. En graag vóór 1 mei, betoogt Leon de Winter. Leon de Winter8 april 2020, 12:41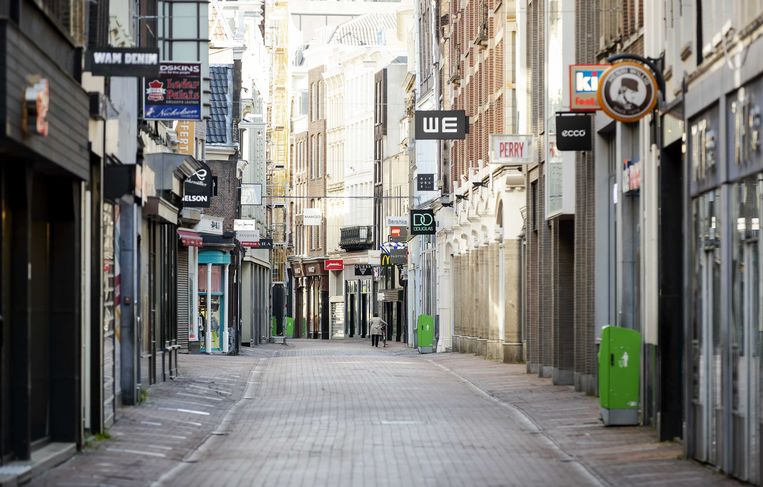 Met gepast respect volg ik het werk van wetenschappers; net als zij ben ik een vooruitgangsoptimist. Deze weken verschijnen ze elke dag op televisie. Bevlogen voeden ze ons met cijfers over bedden, met verhalen over materialen die zij nodig hebben, vaccins en medicijnen, besmettingen, doden. Maar een exitstrategie uit de nachtmerrie die we 'intelligente lockdown' noemen, kan nog niemand geven.
Elke dag worden de cijfers van het RIVM gepubliceerd. Hongerig neem ik ze in me op als ik opkijk uit mijn lekenstudie epidemieën, waarmee ik me nu een maand bezighoud.
Besmettingsgraad
Ik weet nog steeds weinig, maar net genoeg om te weten dat het RIVM het allerbelangrijkste cijfer niet kan geven, het cijfer dat de covid-19-tragedie in perspectief kan zetten. Dat cijfer is de besmettingsgraad ofwel het totale aantal mensen dat positief is getest, plus het aantal dat besmet is zonder aan de gevolgen te lijden. Zonder kennis van de reële besmettingsgraad geen exitplan. Om die graad vast te stellen zijn er tests nodig die antilichamen kunnen aantonen, ofwel de effecten van de natuurlijke afweerreactie van het lichaam op het binnengedrongen en al overwonnen virus – die tests zijn er niet of er zijn er veel te weinig van.
De mensen bij het RIVM werken zich momenteel compleet suf; ze verdienen alle lof en steun. Maar het heeft geen zin te verbloemen dat het RIVM met de kraan open dweilt. Hoe valt er een bevrijdingsdatum te noemen als je niet kan weten of er bevrijding is? Als het RIVM ons volk niet kan testen op antilichamen, kan het niet naar een bevrijdingsdatum wijzen – dat is de kraan die, naar het zich laat aanzien, het RIVM niet kan dichtdraaien. Dus worden alleen testkits gebruikt die covid-19 al of niet aantonen, en ook daarvan zijn er te weinig. Pas nu, een maand na het eerste sterfgeval, wordt het zorgpersoneel getest. Maar dat is niet de antilichaamtest die kan aantonen hoeveel mensen besmet zijn geweest zonder dat daarvan melding is gemaakt.
Dramatisch
Het gevolg van de onmogelijkheid om op antilichamen te testen, is dramatisch: onszelf opsluiten is het enige dat overblijft als je niet kunt vaststellen of het aantal doden in relatie staat tot 20 duizend of tot 3 miljoen individuele besmettingen; in het eerste geval hebben we te maken met een catastrofaal gevaar voor de volksgezondheid, in het tweede geval met sterftecijfers die op die van een flinke griepgolf lijken. Om het zekere voor het onzekere te nemen gaat het RIVM uit van de catastrofe.
In de praktijk betekent dit dat iedereen zich moet gedragen alsof hij (m/v) tot een kwetsbare groep behoort. Door het gebrek aan inzicht in de besmettingsgraad schuilt vervolgens iedereen in het eigen huis. Dit is in de hele westerse wereld het geval. Gespannen volgen we de deskundigen, die ons elke dag vertellen over hun uitputtende, emotionerende gevecht tegen pijn en lijden; pijn en lijden zijn de natuurlijke begeleiders van het leven, en toch strijden we ertegen. We doen dat met kennis, met mondkapjes, materialen, bedden, personeel, kortom, met de wonderen van de menselijke cultuur waarmee we die natuur willen verslaan. Daarin schieten we nu tekort.
Elke dag nieuwe talkshowrondes, elke dag nieuwe cliffhangers, over tekorten en creatieve oplossingen. Met zo veel zichtbare toewijding voor het redden van de zwaksten en oudsten onder ons is het ongepast, en te vroeg, om naar de verantwoordelijkheid van deskundigen te kijken en naar die van de politieke leiders, die op basis van de inschattingen van de deskundigen besluiten moesten nemen.
Economie
Een deel van de economie dreigt ten onder te gaan; is het 10 procent? 30 procent? Het gaat om miljoenen gezinnen die dag na dag afhankelijk zijn van klanten, afnemers, gasten, werkplaatsen, opdrachten. Als we dat kolossale deel van de economie en de bevolking niet kunnen redden, is het nog maar de vraag wat er volgend jaar van onze samenleving overblijft, de beste en mooiste en minst onrechtvaardige in de hele menselijke geschiedenis.
De bevolking wordt opgeroepen binnen te blijven door mensen met vaste salarissen die nauwelijks weten wat het is om elke maand de kosten van een bedrijf bijeen te schrapen, ook in normale tijden. Onze premier heeft een paar jaar bedrijfservaring bij de afdeling personeelszaken van Unilever – hij toont zich al weken van zijn beste kant, maar heeft hij ooit wakker gelegen van de vraag of hij de huur kan betalen en zijn kinderen te eten kan geven?
We moeten binnenblijven, zegt hij – dat is een begrijpelijke oproep. We volgen hem. Ik ook, ik hoor tot de hoogste risicogroep en mijn leven is verre van voltooid. Voorlopig let ik niet op de rechte lijn van ondermaatse overheidsvoorbereiding op de pandemie naar de dreigende ineenstorting van de Nederlandse economie. First things first. Voordat we hem en zijn bestuurdersklasse ter verantwoording roepen: onze wetenschappers en hun heroïsche leger van verzorgers moeten mensenlevens redden, onze politici moeten voorkomen dat de lockdown tot economische ineenstorting leidt.
Kan dit kabinet dat? Mark Rutte volgt de officiële protocollen die de stroom van informatie en verantwoordelijkheden vastleggen; als het fout gaat, kan hij zich daarachter verschuilen – op dat hoogste ambtelijke en politieke niveau lijken velen zich achter een of ander protocol te verschuilen. Wie wil er op dit moment verantwoordelijkheid dragen als duizenden mensenlevens en de hele economie op het spel staan?
Exitstrategie
Vanaf eind februari ben ik begonnen me in te lezen en ik moet bekennen dat de biologisch-chemische kant van de pandemie me grotendeels ontgaat. Maar wat mij betreft is het oorverdovend duidelijk dat een exitstrategie pas kan worden ontwikkeld wanneer de bevolking van Noord-Brabant is getest op antilichamen. Het is de provincie met de meeste slachtoffers en de meeste positief getesten.
De eerste Nederlandse patiënt kwam uit Loon op Zand. Ik ken Loon op Zand, een van de dorpen in het lint van de Langstraat (geloof het of niet: ik werk al jaren aan een roman die zich daar afspeelt). Loon op Zand ligt in het hart van de voormalige leer- en schoenindustrie. Die industrie is voor een deel verdwenen. Maar er zijn nog veel mensen die in de schoen- en leerhandel zitten; dat geldt ook voor de Nederlandse 'patient zero'.
Patient zero bezocht in Milaan de Lineapelle Fair. Elegante lederwaren, schoenen, tassen, riemen, in het elegante Milaan. Tientallen zo niet honderden Nederlanders hebben die beurs bezocht – Nederlanders gaan graag in groten getale naar buitenlandse beurzen want de kosten zijn aftrekbaar, het is gezellig tussen collega's, je kunt er lekker eten en er zijn kansen op een amoureus avontuur waarvan niemand hoeft te weten.
Hoeveel Nederlandse bezoekers zijn besmet teruggekomen van de Lineapelle? Patient zero werd getest omdat hij zware symptomen had, maar de mensen die ook uit Milaan zijn gekomen en in Nederland hun werk en privéleven voortzetten? Zijn dat allemaal patients zero? Ze bleven ongetest.
Patient zero stortte zich kort na terugkeer uit Milaan in de carnavalsfeesten. We kunnen ervan uitgaan dat er andere Brabantse patients zero zijn geweest die ook de genoegens van carnaval hebben geproefd. Ik kan over carnaval oordelen omdat ik het in mijn jeugd in Den Bosch van nabij heb meegemaakt: cafés en danszalen puilen uit, continu is er fysiek contact, het is heet, iedereen zweet en brult vrolijk in je gezicht de liederen mee, feestvierders hangen zwaar en liefdevol over elkaar heen – het is een paradijs voor virussen. Het RIVM had eerder laten weten dat het niet nodig was de feesten af te gelasten.
Symptomen
Steeds meer onderzoekers hebben het vermoeden dat de meeste mensen helemaal geen symptomen vertonen als ze besmet zijn. Het is dus essentieel de omvang van die asymptomatische besmettingen te kennen voordat we beperkingen opheffen. Tientallen Brabantse patients zero hebben vermoedelijk duizenden mensen besmet zonder dat te weten, zonder symptomen.
Noord-Brabant heeft 2,5 miljoen inwoners. Ik kom er regelmatig en ben telkens onder de indruk van de bedrijvigheid op de uitgestrekte industrieterreinen, de duizenden trucks bij de distributiecentra die heel Nederland van voedsel en spullen (en virussen?) voorzien – vanwege deze kenmerken, plus het vaak nog hechte dorps- en familieleven, is Brabant een perfect onderzoeksgebied.
Epidemiologen en statistici kunnen met honderd- of tweehonderdduizend testen de echte besmettingsgraad vaststellen in het meest getroffen gebied en daarna een analyse maken van de vraag of de 'intelligente lockdown' moet worden gehandhaafd of worden opgeheven.
Als we de besmettingsgraad niet kennen en daardoor de lockdown nog een paar maanden moet worden volgehouden, dreigen we Nederland als welvarende en vreedzame samenleving te verliezen. Als we in isolatie en zonder kennis van de besmettingsgraad moeten doorleven, ontstaat er massale armoede en onrust. En massale armoede en onrust leiden tot burgerlijke ongehoorzaamheid, en de onredelijke bestraffing van de wens vrij het strand te bezoeken leidt tot verontwaardiging, en verontwaardiging en burgerlijke ongehoorzaamheid leiden tot… god verhoede wat er kan gebeuren.
Moed
Heeft dit kabinet de moed het RIVM te vragen: wat is de echte besmettingsgraad geweest? Wat is de kans voor mensen jonger dan 60 met een goede gezondheid om dit virus te zonder al te veel ellende te doorstaan? Durft Mark Rutte tegen Van Dissel te zeggen: 'Beste Jaap, jouw RIVM doet perfect werk, ga door met wat je nu doet, vind de besmetten, isoleer ze, isoleer ook risicogroepen, maar je gaat er nu ook voor zorgen dat op 1 mei alles weer opengaat, het maakt niet uit hoe, het mag één, twee, drie miljard kosten, tien miljard, wat maakt 't uit, koop de testkits voor antilichamen ergens in de wereld, kosten doen er niet toe, stéél ze desnoods, we nationaliseren laboratoria als die de testen niet willen analyseren, maar zorg voor de onderbouwing van een intelligente exit want we kunnen niet tienduizenden mensen verliezen en evenmin een kwart van de economie door de plee trekken – doe je dat, Jaap? 1 mei?'
Leon de Winter is schrijver