network
All posts tagged network
Reality, our reality, is both a mess and an absolute wonder
There's the rub
See on Scoop.it – Linux A Future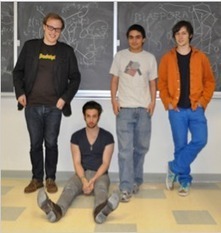 Find detailed information about JoinDiaspora.com – like contact info, an SEO analysis and more – on AboutUs.org
Jan Bergmans's insight:
They're building a new social networking project that they describe as "an open source personal web server that will put individuals in control of their data."
Maxwell Salzberg, Daniel Grippi, Raphael Sofaer and Ilya Zhitomirskiy publicized their project in April 2010, and asked the public for support. They exceeded their $10,000 goal in just 12 days. Subsequent publicity pushed their backing to more than $170,000 by mid-April.
The four partners say their distributed network will connect people's individual computers into a social network. Each person's own computer will hold their Facebook profile, tweets, photographs and other personal data so that every person controls access to his or her own data.
The project was born when the four students listened to Columbia law professor Eben Moglen talk about how easily people are sacrificing the privacy of their personal information to the convenience of using web-hosted social networks and other web-based services.