See on Scoop.it – The Dream Of A Shadow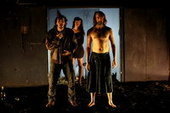 MACBETH nach William Shakespeare im Rottstr 5 Theater in Bochum.

Jan Bergmans's insight:
Macbeth
Bernhard Glose
Lady Macbeth
Karin Moog
Bote, Hexe, Macduff
Jörg Schulze-Neuhoff
Regie, Textfassung
Nina de la Parra
Technik Simon Krämer
Assistenz Nadia Ihjeij, Ronja Sczepanski
Macbeth
Eine Hexe prophezeit dem jungen Macbeth, dass er König wird. Angezündet von seinem brennenden Ehrgeiz und seiner leidenschaftlichen Frau, Lady Macbeth, ermordet Macbeth den König Duncan – woraufhin er und seine Frau zu König und Königin gekrönt werden. Aber schmutzig bleiben die Hände vom Blut des guten Duncans, und ein feiger Mord führt zum nächsten. Gequält von Schreckensbildern stürzt Macbeth sich und seine Lady mit rasendem Wahn in einen Abgrund von Gewalt, Paranoia und Selbstüberschätzung. Macbeths Welt ist ein Todesland, wo die natürlichen Gesetze aufgelöst worden sind, wo Bäume laufen, Dolche schweben, und eine Hexe lachend um ihren Kessel tanzt.
Im Rahmen von Blutige Anfänger
Ein Projekt des Rottstr 5 Theaters mit Studierenden des Fachs Schauspielregie der Folkwang Universität der Künste.
Mit freundlicher Unterstützung der Stadt Bochum und der Stadtwerke Bochum.
Ziel des Projekts: Regiestudenten der Folkwang-Universität sollen eine Möglichkeit erhalten, unter Originalbedingungen an einem (freien) Theater zu inszenieren.
See on www.rottstr5-theater.de